A bit of background
I see my role as managing the limited finances of our parish and helping to support our mission and ministry. This covers a variety of tasks and follows a monthly program of invoicing, supplier payments and reporting. Additionally in February each year the annual reports have to be produced and sent to the auditor for checking.
How are we going?
It is no secret that our bank balances are shrinking steadily. Before the parish split in 2018 our cash reserves were adequate and holding their value.  Since that time, our congregation numbers and offertories have not been sufficient to maintain our expenditure.  We have had to dip into our investments on a regular basis to maintain our parish's lifestyle.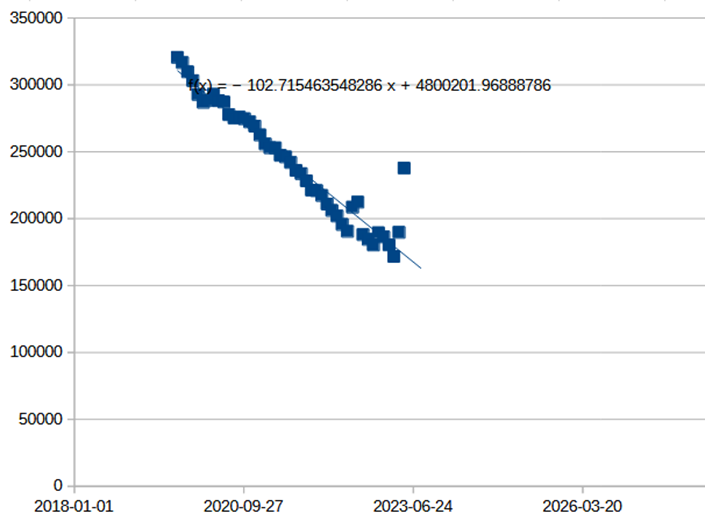 This graph shows our decline in funds since 2019. The general trend is that we are losing $100 per day without any major expenditures. Both Chat-GPT and a pen and paper will show that sometime in the next 4 years we will run out of cash.
The future
Our parish needs at least two things to happen. Firstly we need to make financial use of our spare land behind the Church to tide us over in the short to medium term. Either a sale or leasing out of this land will slow down the decline in funds and possibly halt it, although it may not be enough to pay for large maintenance projects.
Secondly we need to increase the congregation numbers. A congregation of over 100 souls is needed to ensure financial stability and enough energy for fundraising and parish activities.