The results of the Church Life Survey for St Paul's Papanui are in by now. The wider national survey is not yet complete, but we'll know more by the end of the year.
The people who completed the survey overall seem to especially value the music at St Paul's, even more so than the preaching.
I appreciate the music

The preaching is helpful to my life

It seems that it is particularly the traditional music that is appreciated by the people, together with preaching and the Eucharist. Nevertheless, there is also some appreciation for more contemporary music.
Which of the following aspects of this local church do you most value?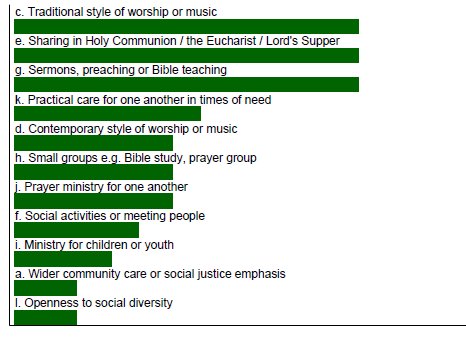 People also described themselves mostly as traditional, over and above any other approaches to faith.
Do you identify with any of the following approaches to matters of faith?
Please note that people could identify with several approaches. They could well say that they are traditional evangelicals.
This fairly traditional approach is also reflected in the immediate priority for St Paul's with worship services seen as very important.
In your opinion which of the following should be given priority by this local church in the next 12 months?