For 143 years, Papanui has heard the peal of bells from St Paul's, calling all to worship.
The first 5 bells were ordered from the UK in 1878 at a cost of £285, but the ship sank off the Cape of Good Hope. Insurance covered the cost and a new set was shipped out to New Zealand. Once the bells were installed, they first rang out on Tuesday – July 27, 1880. The parish made a real 'day-of-it' with a morning service led by the then vicar – F.G.Brittan, with Bishop J.C. Harper in attendance as well. Luncheon, an afternoon fete with games and the Railway Band followed; ending with an evening of entertainment.
The original tower constantly caused alarm. Despite efforts to brace it, by the late 1890's its creaking and
swaying caused ringers to wonder about its safety.
Finally, on a windy practice night in 1903, the bells went out of control, the cross on the tower came crashing down, shingles were torn off the roof and the bells – and ringers – were exposed to the elements. This caused all future ringing to cease. The cost of the new tower was estimated to be £500, and despite not having the money, building went ahead. The new tower rocked too much and in 1914 ringing was stopped until it could be strengthened, but this was during WW1, so the bells hung silent for another 12 years.
In 1926 Mr Henry Matson undertook the necessary repairs, along with some church redecorating totalling £1500 (a HUGE amount of money) and the bells rang again for the first time on November 8th, 1926.The bell tower stands three stories high, the vicar's vestry being the ground floor, the ringing chamber the first floor and the belfry above. Access is from the vicar's vestry via a narrow trapdoor above a wooden ladder on the east wall.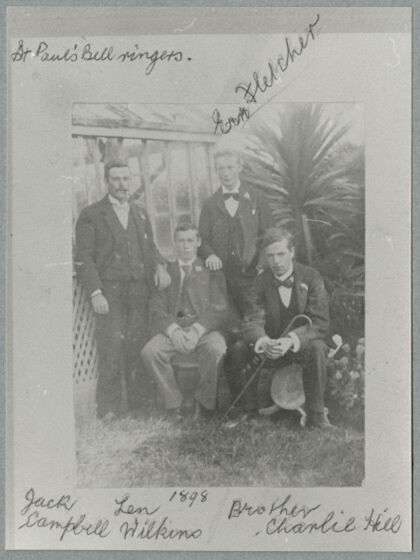 The steel tower we see today was erected in 1982-1983 and that, too, created issues. After some time, adjustments and good maintenance, the bells are in place and are still being rung.
Quarter peals are still being rung today. A change is made every time the bells ring in a different sequence. A peal is the maximum number of changes (5040) that can be rung on the seven bells – a quarter peal being 1260 different changes on the eight (a quarter of 5040).
This takes approximately 50 minutes. These events average once a month, the latest one being for the coronation of King Charles III.
The bells are rung before church services on a Sunday, for other occasions such as weddings or funerals or other events when requested, with practice being on a Wednesday night.
If you would like any more information regarding the bells, contact Warden Lindsay Trott.